new lunch bag
The bag is done and carried my lunch to work today. Well, the ends weren't woven in yet, but if you know me, sometimes woven ends are not required.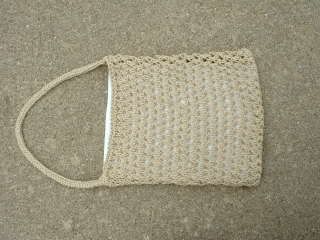 The bag is based on a stitch pattern and concept from Magknit's Saturday market bag [
link
]
with mods along the line of Liesl at disdressed [
link
]
except that I knit it in the round. I say, why knit flat and sew seams and do purl rows when you can knit in the round? Liesl cast on 35; I cast on 70 and joined. I knit a few rows of garter which is knit a row, purl a row then commenced the pattern stitch. The rows didn't always end cleanly, in the round, so sometimes fudging was necessary but it worked out ok in the end. I may do some whispering and some charting to figure out how to make it work more reliably. The handle is an I-cord variation. k1 p4. I wanted the bump side to show prominantly but the k1 was needed for the "pull" stitch. Unless someone knows how to do all purl I-cord. Jump right up and tell me, in the comments if you do.
I used a size 7us 16" circ to start the bag, then sized up to 8us then to 9us, all 16" circs. I tried a longer circ at some point, probably 24 but it was a wrestling match to shove the stitches around so I backed off to the 16's. The handle was knitted on size 5us dpns. I was going to use 4's but found the 5's first. Someday, I'll get all the needles organized. I did a 3-needle bind-off on the bottom. No seaming. None. Gotta love it.
The yarn is Sugar and Cream in the khaki color. I used just over one ball and could have done it with one if I had knit the handle first. I have an idea for the next one for knitting the handle first and joining it up on the first round so it will be more matchy at the ends of the handles.
The bag is pictured with a sheet of 8.5x11 paper to show the stitches better so I'm guessing the bag turned out about 9.5x10.5.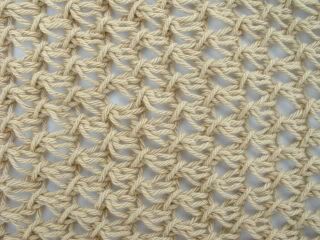 It holds several yogurts, a couple of pieces of fruit, and a pint jar of cheerios. And a knitting project, a camera, and a bottle of water. It could be used as a purse substitute if your purse contents wouldn't fall through. My keys and lip balm would have to go in my pocket. You could line it but then you'd lose all the expando-magic stretching that is knitting.
more later,
j