cestari brown socks
I started these socks on the sf trip but had knit just a toe plus 10 rows or so by the time I got home. The yarn is by cestari and is 75% cotton, 25% wool. I bought it last winter to dye orange and knit some fingerless mitts for dd's syracuse-orange-loving roommate. But koolaid dying doesn't work well for yarn with this much cotton and resulted in a sickly weak color with only hints of orange. So I got some trusty rit and got this nice brown color. (And used the orange koolaid on some kp bare wool.) Back to the sock. Here is the current state: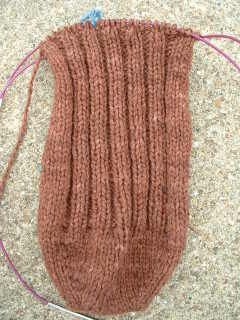 I just have one skein of this yarn which is supposedly 2 oz and 193 yards per the label (it's 59 grams per the scale) so these will be short socks unless I get in the mood to buy another skein. And make striped socks because I'll never get this color again. Or I could get in the mood knit some top with another stash yarn. I'm thinking I will do a semi-permanent lifeline before the bind-off, and I will knit a bind-off that is more removable than my normal sewn bind-off, so after I wear them a time or two, and wash them a time or two, I'll know how I like them.
The stitch count around the sock is 52. I'll do a gauge count before I'm done but it fits so its the right number for this yarn and my foot. But 52 is the sock number for Wendy's new heel in sport weight so these socks get to be my new-wendy-heel-tester-socks.
I'm not sure how to put this delicately. The yarn is cottony soft... but I'm knitting these on my 2.5 mm kp circs and my hands are not liking the knitting with the cottony yarn at such a tight gauge.
Look what I found in the ziplockbag with the yarn and the sock: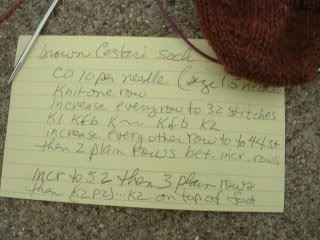 Wonder of wonders, I took notes, and kept them. So sock #2 has a chance of being remarkably like sock #1. Yea!
more later,
j