strfotm finito
Fire On The Mountain is finished: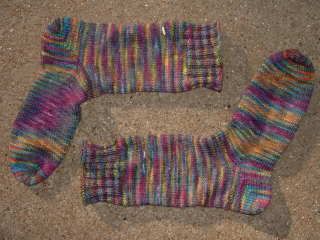 For the record:
The yarn is Fire on the Mountain lightweight sock yarn from Socks That Rock. I bought it from a
destasher
on
Knitters Review
. They were knit toe up using
Judy's magic

caston
on
Knitty
with 10 stitches on each needle. I increased to 48 for the major part of the foot. Then a few more increases in the late arch area to 56. The heel is an afterthought heel over 28 stitches. If you check the picture of these socks while they were in progress, you'll see a white chimney for
kitchenering
the heel... I "learned" this from Lucy
Neatby's
knitting
dvd
(2) but evidently I didn't learn it very well as because after I
kitchenered
heel number 1 with this technique and
frogged
the chimney, I was left with many loose live stitches. I grabbed some
dpns
and "saved" the stitches, blew off the chimney and did a 3 needle
bindoff
on the inside of the heel. I've done this before and find it easier than traditional
kitchener
. And I don't feel the bumped area on the inside during wear. There is about 21 grams of yarn left.
Then I decided to learn some
colorwork
, in preparation for sock madness. I have
never
done
fairisle
or
intarsia
though I do read about it, from books and online, some. And they say one of the socks will have some
colorwork
so I figured I better get some idea of how-to. I selected some stash yarn: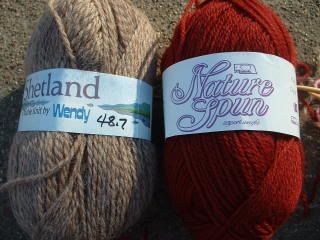 And did a provisional (via crochet around a knitting needle) with some handy scrap yarn. The scrap ran out at about 68 stitches so that's how big this piece is. My idea is that the result may be a baby hat ( and it working out in a possibly newborn size). The needles are size 4 Clover
dpns
. Well, one of them may be a 3 but I don't think it matters too much for this exercise. Have you ever read where
ez
said she could knit a sock with suitable and even gauge with 4 different size
dpns
? Well, I think her point is that the yarn will settle in at whatever gauge it really wants to be. And I agree. Here is where we are:
I knit a few rows with the brown, then knit 2 with each color, in turn, for two rows, then two more rows of brown, then repeated the knit 2 with each color, but in the opposite positions. It did occur to me that I could have done the opposite positions without the two plain rows but I was already well into the plain rows and not in a mood for
tinking
. And I was glad for the break from the color changes. Then three rows of brown and one row of red and some other pattern is coming up soon, but it hasn't spilled out into my fingers yet.
The reason for the provisional is that I think I'll want an inch or so of rib but knitting rib, now, does not advance my goal of learning two color knitting. And if I don't end up with something that can become a hat (or something, nominations are open), knitting ribbing would have just slowed me down and used my knitting time
unnecessarily
.
One of my problems with learning two color knitting is that I am a continental knitter through and through. I don't throw. I've seen some of my Sisters Of the Wool throw, but I don't know how to throw. I remember
txknitter
showing me how to do some knitting thing and she said, just for this row, throw. And I said, I don't know how to throw, let me figure out to knit it continental. And I did. But the most commonly recommended, at least in my research, is to knit two colors with one color in each hand, one continental, and one english, so that's what I am trying to do. Now some suggest holding some certain yarn in each hand whether the color is to be the foreground or background. I'm not sure which of my yarns is the foreground. I just know that I'm holding the brown in my left hand. Another problem, probably related to wrong throwing is that I found my red stitches twisted. So when I found them twisted, and I'm not sure I found them all, I knit into the back of the loop. And I commenced wrapping the thrown yarn the other way. Seems to have done the trick. I'll worry about fine points later.
dh says he likes the splotches (referring to little squares of red). I think that was a compliment.
more later,
j