brown socks are done!
A pic outdoors today during the ribbing knitting time:
And after finishing knitting the ribbing, and binding off with a stretchy EZ sewn-cast-off (it took just over a yard, for the record, which you have to estimate in advance) and weaving in all the ends, of which there were extras because of the joined yarn to stripe the tops: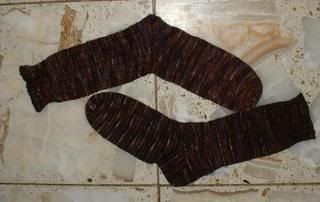 For the record, there were 52 stitches around the leg. The socks were knit toe up with a short row heel. And I do like how the socks fit. They were knitted with a kp 32" circ size 1us which, like the addi circs, is really a 1.5us. The socks is k3p1 for every other row, the knit only for the other row. The ribbing is k2p2 done with size 1us crystal palace dpns until the last row, where I sized up to size 2 dpns of various kinds. Then the sewn cast-off which I really like for a very stretchy cast-off.
The yarn is by Fleece Artist and based on my experience with the drastically varying colors from one end of the ball to the other, I don't plan to knit more Fleece Artist's yarns.
more later,
j