brown socks out of time out
The brown fleece artists socks are out of time out: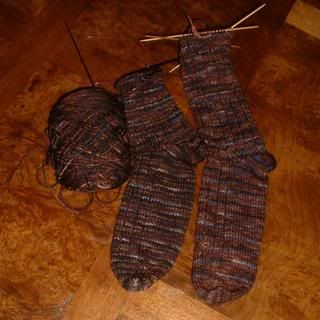 I am "self-striping" the leg with the dark end of the yarn ball and the lighter more variegated end of the yarn ball. If I had noticed what was happening on the feet, that's what I would have done there. I started out with 2 to 4 rows of each then decided it would be easier for all concerned (me, the knitter) with wider stripes of 6-7 rows and I like how it looks better too. I carry the unused yarn up the inside back and "twist" it in every two or three rows. If anyone wants more details on self-striping, let me know. Sock 1 is close to being ready for ribbing. Sock 2 is coming along nicely.
For posterity, the sock pattern is a modified k3p1 rib. Every other row is a plain knit row. Goes a little faster but still gives some fit advantages of the rib.
Here is the Jitterbug yarn. It may be knit in sock madness if it fits in to one of their patterns that may fit me. It won't enter the game just if the
patt
will likely not fit me. I'm having some reluctance to knit patterns sized to fit an average woman's foot when I have a narrow foot.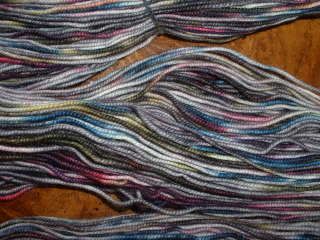 And wound up:
And the purple yarn from Sunday's dyeing adventure is wound up, together with some variegated singles, ready for clog knitting when the mood strikes: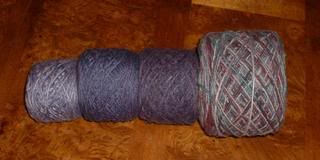 more later,
j