purple yarn
That popping sound I heard yesterday... it was the lifeline. Luckily it just popped out of four or five stitches. And I was able to frog back easily and pick up the lifeline stitches and the popped out stitches. The leg is in process and the other sock has a heel too and a stockinette leg in process. Pics tomorrow of
str
fotm
(socks that rock fire on the mountain socks).
Today we have pics of a dyeing adventure. I have some yarn in the stash that needs a carry along
feltable
yarn to knit another pair of clogs.. And it needs to be purple.. but I don't have purple.. but I have stash yarn, an odd skein of
knitpicks
elegance in a creamy color, some leftover
paton's
wool (label missed the pic but is now found), and a
coupla
skeins of
tannish
, light brownish
shetland
(there's lots in the stash):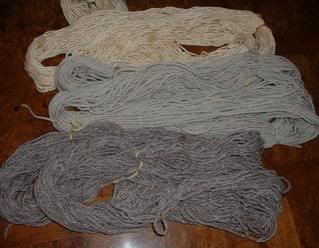 and I have dye, or dye substitutes: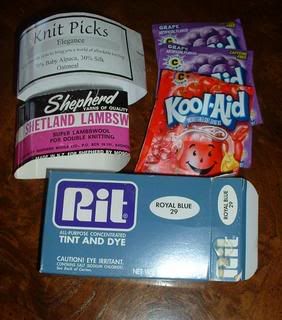 I used all of 2 packs of grape, 1 pack of cherry (did you know cherry and grape have different amounts of powder per the label? and per the scale) and .5 gram of the blue
rit
. And salt. And two glass mixer bowls full of water. Heated to near boiling. Stewed for about 20 minutes.
wvaa
laa
:
And it was laundry day here in Texas. Including sock laundry. Which I have taken to doing in the washer on extra gentle. Whether the yarn is
superwash
, which most of them are, or not. Yup, you read that right. Socks knit from yarn that has to be
handwashed
is going in the washer. And they are all surviving. Witness: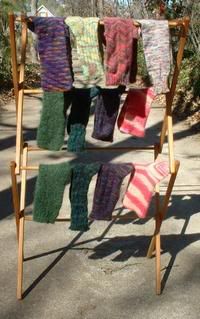 top row from left to right:
rpm
cth
end lot
aqua
kp
dancing basic socks k3p1 rib
jaywalker
cth
foxy lady
koigu
(latest sock
FO
)
bottom row left to right:
kp
alpaca (
dk
weight?) lace socks
sock bug river rapids yarn by
lisa
souza
mc
bearfoot
(or is it barefoot, I always forget) in a
basketweave
type pattern. Which is obscured by the mohair contents current halo
kp
merino sock yarn another k3p1. In a pink discontinued colorway
And there are a couple more pair in the "collection" that didn't get worn, or at least didn't get washed.


Just wanted to mention, I really like that collapsible drying rack I bought at an estate sale a

coupla

' years ago.

more later,
j