koigu progress
We have more Koigu sock: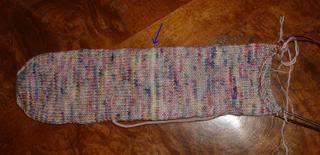 We are up the leg almost to the point where the ribbing might start. The arrow shows where the scrap-sock yarn is and where the afterthought heel will be. It's about 6 5/8 inches up from the toe. Because that's where the heel seemed to be relative to the toe on rpm. I can always tell where to start the toe, when the sock is for me, on a top-down sock. But I struggle with where to put the heel on a toe-up sock. This time, we have a measurement. So if it works out, that's the magic number. At least if the sock's for me.
This sock has 48 stitches going round and round so the afterthought heel will be on 26 (half of 48 is 24, plus an extra on each end) . It is a little fiddley to put in the scrap yarn when knitting magic-loop style, when I want them to go more than half way around, which I do. Let me know if you want details on the fiddling. Of course, when I pick up the stitches, there will be a couple extra in each corner, so the heel will start out with about 30 stitches.
I need to get the heel knitted in before I do lots of ribbing so there's plenty of yarn.
I'm about to the point on this sock where she will come off the circ and wait on dpns for her little sock buddy.
The rpm socks are done, kitchenered and all, and have been worn to work and to knit night and are in the laundry. Pics to come maybe next week.
Tomorrow I'm planning a post following up on "which sock" in early January. And a ytd summary of FOs and UFOs.
more later,
j
p.s. I am upgraded to the new blogger. Didn't seem to have much choice.
And everything seems to be working ok. So far.
Let me know if everything is not working out from the blog reading side.