rpm is done ...almost
We have toes and heels.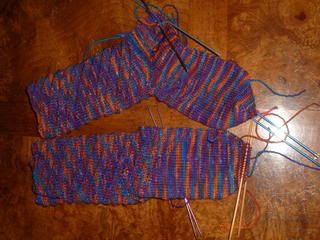 With lots of stitches on holder needles. Maybe I'll be in a mood to kitchener tomorrow. And if we have sunshine, I'll try to get an outdoors picture.
And I had some knitting time at the farm. And more knitting time this evening when we went to dinner and had to wait a bit. Well, actually, I was so close that I put in the last few decreases at the table while we waited to order.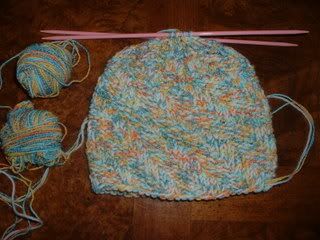 All that's left is to run the yarn through the half dozen stitches that are left. I always run the yarn around twice. And there's some yarn left. I'm tired of it so it is available. First offer is to my Sisters of the Wool.
If you've been reading along, you will notice that I've completed several projects over the last week. So I started a new sock. It's the Koigu that got frogged earlier in the week. I'm using
Judy's magic cast-on from knitty
.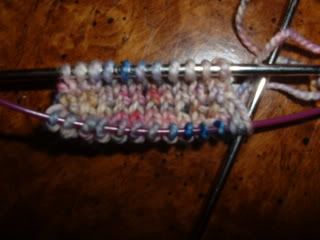 One more thing. We had a nice delivery in the mail. Socks that rock light weight. I got it from a knitter on
KR
. The former owner had swatched it and decided it wasn't her color and rewound it. There's no label but she said it was Fire on the Mountain. This yarn is going to be fairly high on the list when it tells me what it wants to be. Probably something fairly simple as these colors seem to want to do the talking.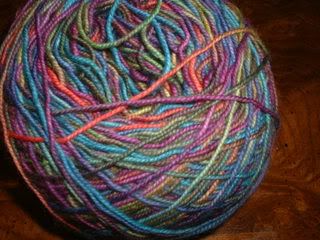 more later,
j