knitting report
I spent several days visiting mom. Visiting hours were only 2 hours per day (with some extra on the weekend) so there was knitting time.
The koigu socks are finished. And have been worn. Here's a pic: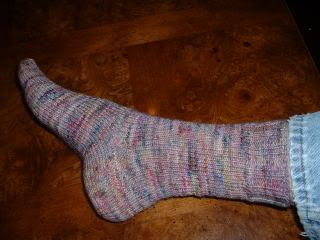 There's another one of course. On the other foot.



And there is a pair of clogs. Likely for dbgf (dear brother's girl friend). Unless they felt down too small. Then they'll be for a cousin. I haven't felted the shetland before. Or this color of vm varigated singles.


And there is yarn left: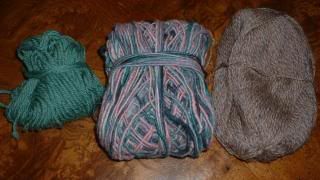 And another pair of socks well on the way. With the Socks that rock Fire on the Mountain lightweight that seems to have lept to the top of the sock list. How does that happen? Maybe it's one of those last-in-first-out systems of sock yarn management.

Cast on at the toe with Judy's magic cast-on from knitty. 10 stitches to start on each needle tip. Increased to 48. I stopped at 48 because it "fit".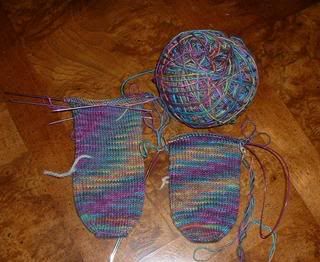 And up close: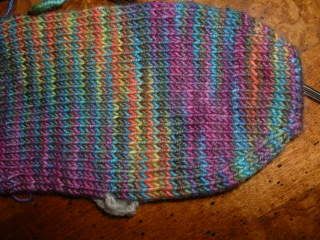 These are being knit on size 0 knitpicks options 32" circ. because the size 1 is in another sock (the brown ones, they're living in the drawer at the office for lunch time knitting).

I took both socks up to 40 rows past the point of reaching 48, then increased 2 stitches. On the "front" needle one stitch in from each edge. A right leaning lifted increase Cat Bordhi calls a mother increase at the start and a left leaning lifted increase Cat Bordhi calls a grandmother increase at the end. Ten rows later, another set of increases, and five rows later one more set. The increases are because the stitch count is the same as Koigu and the sock toe/foot fits really well, like the koigu, and the koigu pulls just a bit over the arch. So it's a test. Seems to be working so far.

And I found a very nice knit shop in Guthrie (SWAK) and have lots of new knit-ty goodies. I better save that post for tomorrow as it is getting late.

j