feather and fan :-(
Look closely: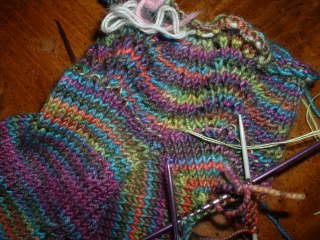 because there will be frogging.
Angeluna
asked how elastic the feather and fan is. The answer is not very. I've been knitting on the heel so I could try it on and check the fit. and the elasticity. Because when I give it a stretch it doesn't give much. Not much at all.
You may see lots of
dpns
in the pic. All the size 0s I could find. I knitted in a couple extra for the try-on. We've just had the try-on and I had to pull and ease and pull and ease and pull harder. I heard a pop but don't see a broken yarn but fear I may find one. The problem
was
getting the feather and fan part which was to be the ankle (and leg) over my heel.
Was
is the operative word here as I fear I may be frogging the feather and fan.
If you look at the pic closely you'll see a green thread running through the stitches just before the start of the feather and fan. It is a crochet cotton lifeline that I placed just in case. Seems I may be saying "bless your heart" to my lifeline and my fore-thought to place it. I did increase my stitch count before starting the feather and fan and I'm not sure if I increased more whether it would work better but I'm not willing to find out. At least not now.
I will finish knitting the heel and try her on again. If the feather and fan continues to be contrary about going over the heel, it's
outa
here.
more later,
j