sock yarn up close
Some closeup pics of my new sock yarn. This is Harbor, described as hand-painted in ocean blue, navy, purple, green, gold, and more. (Way too much blue for you Angeluna.)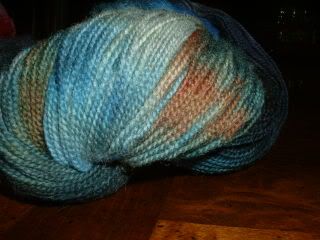 and this is Midnight with shades of teal, plum, black, grey, brown.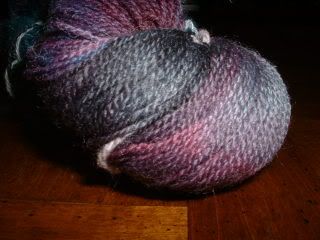 Both are from ebay seller lotusblossom, from whom several of my Sisters of the Wool have bought yarn that they like a lot. Both these are from her Twinkletoes line, 500 yards of fingering, handwashable but we'll be doing some testing to see if they can handle the extra delicate cycle on the machine. A swatch will be the guinea pig. All my others socks handle it well, or at least tolerate it.
And they were a heck of a deal. Nobody bid against me on Midnight so it was 7.50 and I had to outbid someone for Harbor so it was 11.95. Plus reasonable shipping charges.
I'm on Stephanie's traveling sock team for Sock Madness. One of my Sister's Of the Wool is on my team and a couple of others are participating on other teams so that will be fun. We may have a knitting kick-off on March 10.
And have you noticed that hits have soared past 6000? Yea, blog hits!
more later,
j