Closing in
Closing in on the end of February. A couple of last minute completions, I was about to say, but one is a completion and one is a frog.
Baby Albert is finished. Well, except for the buttons, and I'm calling it finished. A friend at work who has three children from age 7 down to 6 months says it's about a size 2. Actually I knit the 0-3 month size generally, but used worsted weight yarn (KP dye-yur-own, undyed) and size 7 needles. When it came to the "knit to inches" instructions, I overshot the 12 month size slightly. Hey, it will fit somebody. When my SOW with the sweet one-year old dd gets to come to knit night next, maybe we'll get a modeled shot.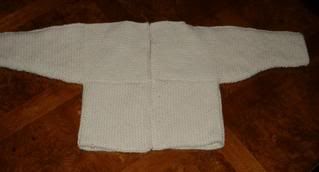 And the Cat Bordhi smile socks are de nada. Gone to the frog pond. Witnesseth: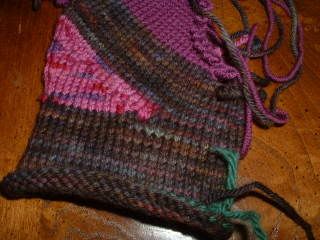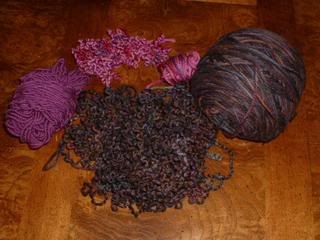 And there was a squishy package waiting for me when I got home. I ripped it open immediately and wanted to cuddle and pat my new sock yarn, but dh wanted me to help finish up dinner. Then I had to go to bell practice. Then a stop at CVS for the vitamin sale. Now home to blog but I did get to take my new yarns first pics: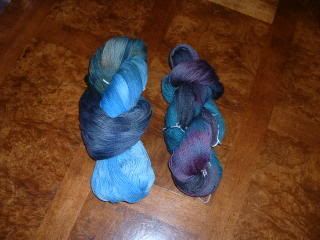 closeups later. This post is pretty graphic heavy. And there is more.
More new yarn that is. Grace shared her purple cth ebay buy from a few months ago. I think it may be "solid" for purposes of sock madness: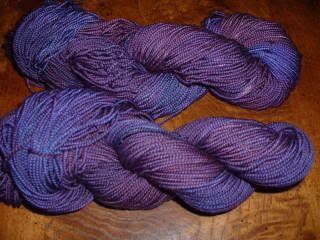 And no pic of this announcement, but I just e-heard that the harlot quoted me today. I commented about an arty photo of garter which I thought I recognized as ez's ribwarmer vest. And I was right. And she mentioned me by name.
Better close for now. Lost is on and I feel the knitting needles calling me.
j