Petey's debut
I'm getting psyched up for Sock madness and clearing off some sock projects that are close. My STR Fire on the Mountain socks are so close: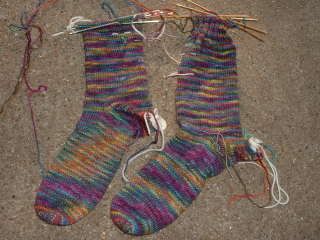 These
will
may be done tomorrow.
And I'm almost done on a baby hat: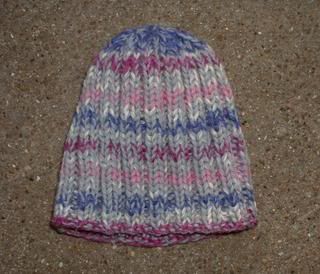 It's done except for the weaving in. Well, and it needs to be washed because Petey tried it on (with apologies to Jay Leno (and to Petey)):
The hat is knit with k2p2 ribbing with a cast-on of 68, knit up straight until I started to worry about running out of yarn (which is leftover sock yarn 1 strand of knitpicks discontinued yarn held together with 1 strand of dye-yur-own sock yarn, dyed light gray). It is knit on size 7us inox 16" circs until the decreases made the number of stitches unmanageable on the circ. Then I switched to size 4 dpns. Because they were the first non-sock dpns I ran into. With the ribbing, it looks small and will probably fit a newborn size but will stretch to 19 inches around. It is about 6 inches tall, so for a bitty head, the mom could turn up the bottom inch or two. For those who might be wondering, there is no designated baby.
more later,
j