What is it they say about imitation?
It's the sincerest form of flattery.
Angeluna,
please
do not stop showing me socks.
Seems it has happened before, though I do not remember the specific sock or the specific baby hat,
but here we have a new baby hat: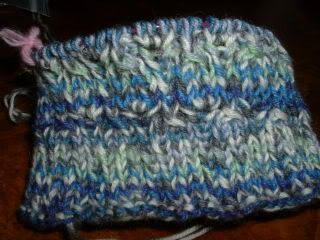 Very much like the sock I saw yesterday, shown in
Angeluna's
purlsbeforefrogs July 1 blog post. Scroll down a couple of screen-fulls.
The sock is the Undulating Rib sock from
Favorite Socks
recently published by Interweave, a very nice sock book, by the way. I modified the sock pattern to have 5 "plain" rows between the "fancy" rows because of the limited amount of real estate I have in the top of a baby hat. The yarn is Regia, purchased on ebay last year (or the year before, I forget). It was a good deal but I haven't gotten in the mood to knit socks with it and I don't feel the Regia faux fair isle mood coming on anytime soon. So I'm double stranding it on a size 6us circ (yea for
knitpicks
16" circs). The cast-on was 72.
This project will use up some sock yarn and keep some baby's head warm. Unfortunately, (or fortunately) I think there will be enough yarn in two skeins of sock yarn to warm the heads of several babies.