baby bear
More catch up from last weekend's knitting:
Baby bear
from the Fiber Trend's pattern: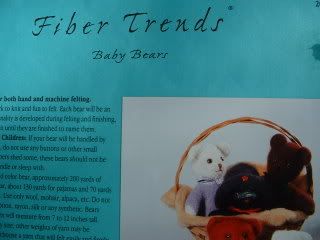 I've had the pattern for over a year (deeply discounted at last year's DFW Fiberfest) and the shetland wool yarn has been in stash for probably longer than that. And there's lots of it. Three (1 oz.) balls are destashed.
He needs more seaming then felting and stuffing. And maybe some socks?
There is progress on the
Loksins
socks. I'm midway through repeat 3 of chart A. I'm starting to remember the pattern so it's knitting faster. And I'm not stressing so much about losing stitches during the big slip.
In the interest of full disclosure, I did reduce the cast-on from 60 to 58, eliminating two stitches from one of the stockinette panels. I'll have to knit in some extra needles and have a try-on soon.
More later,
but not tomorrow, because Tuesday is knit night...