catch-up
There has been knitting and the sock has been having adventures, but the camera has not been along to record. So sad.
The monkey sock went to knit night last Tuesday. There were a couple of times I thought maybe it wasn't a good idea because there
is
should be a bit of paying attention and counting, but it turned out ok.
And Wednesday, the sock saw Sammy Sosa hit his 600th home run. There is a picture on my camera of Sammy during his homerun swing but pictures on my camera do not know how to get onto my computer.
Then Thursday, the sock went to Norman to visit their knit night. I met some knitters from Norman when I took the class earlier this year in Guthrie. Wilma and I closed down Borders. At 11:00 pm. Borders people in Arlington, take note. In Norman, they get to stay until 11:00.
But before the knit night, I went to a new yarn store in Norman,
Yarn and Loops
. They were having a Fiesta night with margaritas and food. I was sorely tempted by some of the yarn but I got some pattern books and a t-shirt and some special buttons. Oh, and a little vinyl logo bag. The t-shirt and bag were half price. Call them up (405.310.3636) and get some. It may be a collector's item someday as they are changing their name to L&B Yarn.
Some pics of my new stuff, no stashalong violations: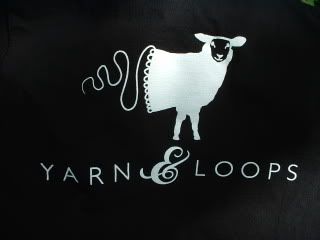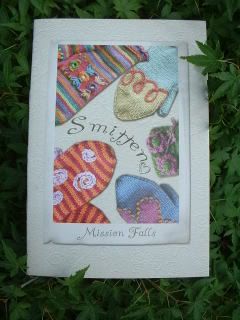 Then the sock went to Edmond and visited mom at the nursing home, then to Lake Hiwasee to visit my sister and help make food for the family reunion. The sock did not get to re-une (is that a word?) as I was too busy visiting. A bag o' stash yarn, mostly acrylic passed down from my mom from her crocheting days, was passed on to a cousin who crochets. And likes acrylic.
But the junior hat, the one that will not be shown until it's pattern is entered and wins, or not, did make an appearance and was tried on several little ones. It fits from age one and a half to age five. And heads were measured. Little kids have bigger heads than I would have thought. A sweet little great niece (the one and a half year old) declared it soft and liked it a lot. It is knit with Lorna's Laces worsted and she wore it for quite a while on a hot June afternoon in Oklahoma. I had to promise to make her one in girly colors.
So here is the current status of Monkey: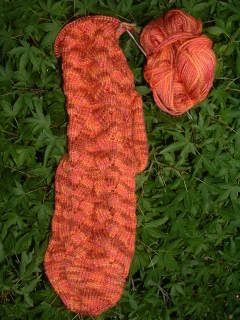 and up close: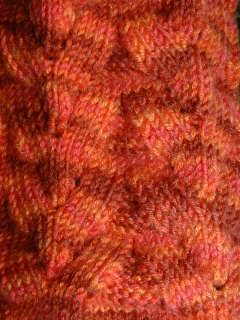 And we have started a new sock in honor of
Summer of Socks
.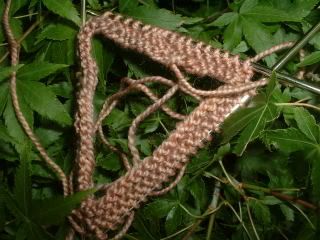 You can't tell much right now but it is a Loksin from new pattern designer
Cassie at too much wool
. Show some support and buy a sock pattern. Between my Sisters Of the Wool and me, we bought 14. Watch for lots of Loksins coming from these parts. And from Cork, of course. Jo at
Celtic Memory Yarns
is an honorary Sister.
There is also a new baby bear project but I will save those pics for another day. Stay tuned.