Cestari brown socks are done!
The Cestari brown socks are done!
and up close: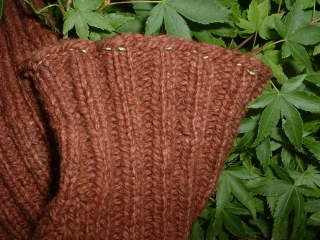 They are done at least for now. And they count as an FO for purposes of counting FOs and for purposes of starting new stuff. [I'm on a self-imposed 2 for 1 game.] I say for now because I expect to un-cast-off and knit on a wool cuff of some sort to give them more length and some ribby memory. They fit pretty well but have a stretched out big on my ankle look (and feel) shortly after the "putting on".
You may see some little green blips in the pics. It's a semi-permanent lifeline. I'm going to wear and wash them a time or two and see how they feel, and how they wash, and how the brown color holds up (it's Rit dye).
Just for the record:
Yarn
: Cestari 2 ply sock yarn in the Timberwolf Gray color, dyed orange, (unsuccessfully) with kool-ade, then brown with Rit dye
There were 59 grams of yarn to start and there are about 15 yards left. The yarn is 75% cotton 25% wool. It feels cottony soft knit up but has very little memory.
Needles
: size 1, 2.5 mm Knitpicks circ (32")
Pattern
: knit magic loop style toe-up with a knitty Judy's magic cast-on (10 stitches per needle)
k2 p2 rib over the top of the foot and the cuff. With a k4 on both sides of the cuff because of a mis-calculation in the middle back. I'm calling it a design element and repeated it on sock 2.
52 stitches "around"
heel
: Wendy's new heel
Special notes
: Bound off with a size 7. I usually do a sewn bind-off but that would be next to impossible to un-bind-off so I went with a traditional bind-off on a really big, relatively, needle.
Started in April 2007, finished in June 2007.
more later,
j