20 pounds of plums
I've been picking plums. This is a 3.5 gallon bucket filled with plums, 20 pounds of plums.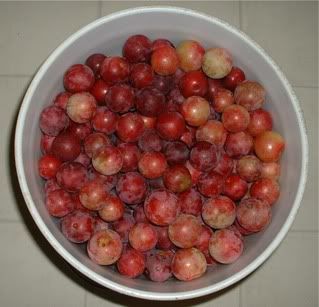 Most of them were picked standing on the ground but I had to climb a ladder for some. Most of them are now in my big pot simmering down for jelly. Some didn't fit. They'll be for fresh eating or I'm thinking about drying some to make homemade prunes. I've never tried making prunes before. Gotta go find that dryer...
I usually pick wild plums at about this time of year on the property next to ours but this year our domesticated plum tree (Methley, I think) has a bumper crop. We called the wild ones sand plums in the area in northwestern Oklahoma where I grew up. I remember making my first plum jelly 25 years ago. My sister knew where some were out in the country along a fence row. I remember that was pregnant and my sis had her one year old with her. And my mom was there but I'm not sure whether she was picking or chasing the baby. Back at home, I remember trying to peel and pit those little wild plums and getting nowhere fast. I finally called my mom who, it turned out, knew nothing about making plum jelly. Lots of things her mom did, skipped a generation. But she said to call Uncle Bud. And he knew all about making plum jelly. He laughed at the thought of my peeling and pitting and said just to wash them and throw them in a big pan to simmer. The juice comes out leaving the pits and peels to be strained away. So that's what I do.
In knitting news, I have finished a hat:
I'm not sure who it is for. Maybe my great-nephew?
Cast-on was 60. Knitted in k2p2 rib with 2 strands of leftover bits and pieces of
WOTA
on a size 9 addi turbo 16" circ. The yarn used totaled up to just over 60 grams.
Back to work tomorrow and it's knit nite for the Sisters Of the Wool, and there is rain in the forecast,
j