my first spindle spinning... or ode to Judi
Judi, you may be my new best friend. At least my best spinner friend.
To fill in the rest of you, we had a special knit nite today. I know, I know, today isn't Tuesday and to
day
wasn't a night but
txknitter
said something like, "it's my vacation and I'll knit if I want to -- anybody want to come and knit with me?", and some of us said yes, so there was a special meeting of the Sisters Of the Wool on a Sunday afternoon.
There was some list talk about spinning and new member Carrie said something about spinning lessons, and new member, Judi said "I'll help you", and it turned into our first meeting with spinning wheels. And spindles. And wool fiber. I wasn't paying attention to the non-knitters in the Border's coffee shop but I understand we caused something of a spectacle.
Back to the spinning... I watched Carrie spin. And I watched Judi help Carrie. And I watched Judi spin. She said it was lace weight alpaca but it looked very fine, almost like cobweb to me, and perfectly even. And Judi demonstrated drop spindling. And best of all, she brought drop spindles with fiber to loan to Angeluna. She asked if I wanted to try it and I eagerly said yes. Oh yes.
So I came home, and started trying to spin. Had to stop for dinner. [The maple man had been to the grocery store while time got away from me at knitting.] I had recently borrowed
Shannon Okey's Spin to Knit
from the library. So there was some reading during dinner. And some internet research. Then more spinning. And we have our first bit of yarn:
And up close: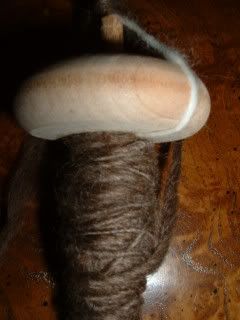 It's blue faced leicester. I spun blue faced leicester. On a side note, I just had to scratch my back and found tufts of drafted fiber on the back of my shirt. One of the hazards?


I am a little worried about taking the yarn off of the spindle, like maybe it'll come all unspun. Then there is the plying that I've heard of... And there are z-twists and s-twists and I'm not sure which mine is. But I'm guessing I'll figure it out. Or I'll ask Judi. My new best spinner friend.


In knitting news, there is a good ole' garter square, knit with sugar 'n cream (soft teal) on size 6us clover bamboo straights:



The cast on was 36.

It is a sample for a knitting class I'm getting ready to teach. Smaller than a scarf, much smaller, but something useful that a new knitter can make while practicing the knit stitch. I have another garter goodie in the works.

more later,
j