bearfoot pics
The mountain colors bearfoot socks are done: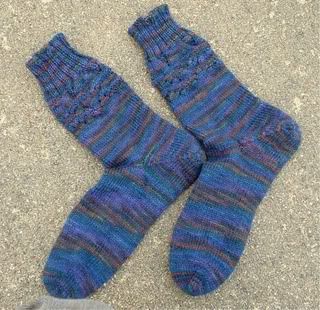 and up close on the leg section: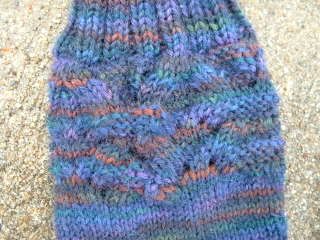 and the other sock:
No, they're not exactly the same but most people will never see the tops of my socks, and those who do probably would not notice the differences.
I was bored with stockinette and decided to play around with monkey patt variations. I think I'll use the official Monkey [
link
] top down charted pattern when I knit monkey but start at the toe. It's not an official KAL at knit nite but Joy and Angeluna were both knitting monkeys and I'm feeling left out. I'm going to try to finish up a coupla' projects before I start my monkeys but the call is strong.
Just for the record, the yarn is Mountain Colors Bearfoot in the Larkspur color. The rated yarn quantity was 350 yards / 100 grams. My skein was 110.5 grams and I have 30.5 grams left. So I used about 80 grams for this pair. I have another generous bit of leftover bearfoot so I may stripe the two together for another pair of socks. I may not have quite enough so I may have to beg/borrow someone else's leftovers. Or buy another skein sometime.
The sock was knit toe-up using Judy's magic cast-on from knitty [
link
] which is my current fav. Who knows where my notes are for these socks (they started as vacation knitting), so I'll guess that I did my standard toe increases (faster at first then normal then slower) to probably 48 or 50 or 52, though 48 sticks in my head and these are some snug snug socks. Then there were a few gusset increases and they finished the leg at 56 with about two knuckles of k2p2 rib (doesn't everybody measure rib by the knuckle?). For those who measure with a ruler, it's about two inches.
The heel is an afterthought, over more than half of the stitches, with my new favorite decrease (that I also use for toes if I knit top downs). Basically, it is centered on each side of the heel, and I do k2tog on (both sides of) one row and ssk (on both sides) of the next row, at infinitum, until it is enough, that is, until it fits my heel. With a double decrease or two at the end. I will put together a post later with pics hopefully, featuring this decrease. I need to be using some lighter yarn that will show up better.
The maple man wants fish tacos (we're going out on a Thursday??) so I have to close for now so,
more later,
j