the pink sweater… or what was I thinking?
This pink sweater has been in time out for a while. A long while. My notes show dates in March 2005. It's from the time when I re-started knitting, probably in Nov-Dec 2004 with scarves and hats. Then I wanted to make a sweater so I visited a lys and bought a book and yarn.
Last week, I decided to pull the pink sweater out of time-out to assess the situation. I found a full back, and a front knit almost up the armhole decreases. What was I thinking? Why-o-why didn't I finish it then?
Here are the front and back. The dpn shows where I found the front.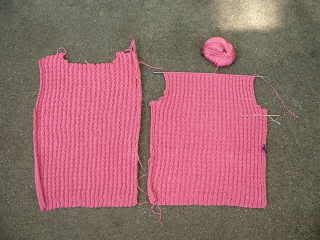 Sooo I decided to baste the front and back together and give her a try-on. Had to offload the stitches to a piece of yarn. And I tried it on. It is ribby with twist cables resulting in a very stretchy fabric. In my husband's words, and he chose them carefully "that's more fitted than you usually wear." And when I started knitting this sweater, I was 10 to 15 pounds heavier --- what was I thinking?
There are sleeves too. Both of them:
I held the sleeves up to my arms. They look like little miniature sleeves. A good look at the pattern shows ¾ sleeves with a flared bottom, which I did not do (the flare). Again what was I thinking?
Sooo I've been knitting some pink sweater. I re-needled the held row, and tinked back one row to get rid of that stretched stitches look that stitches which have been held too long can get. It worked. The needles were with the project, a set of long size 3 straights. They seem to work for me to get a stitch gauge very much like the knitting in the pieces and parts. I was a bit worried about this as lots of knitting-water-is-under the bridge in the last two years and sometimes different styles of projects mess with one's gauge. But, not to worry, if I didn't show you where I re-started knitting, you might not know.
Sooo, I'm planning to finish knitting this pink sweater. This month. Then I'll try it on and test it out. It may be for me, or maybe it's for someone who is smaller. Or who likes more fitted sweaters. And who has shorter arms. Or someone who likes ¾ sleeves.
Just for the record, the sweater pattern is in The pleasures of knitting by Ann McCauley.
more later,
j