finishing up May projects
I'm evaluating the current ufo situation. You'll get the full report later this week but it seems that even though I'm finishing some projects, the number of ufos is growing. I'm planning some finishing and some frogging.
Speaking of finishing, I was knitting along on the rose suri alpaca scarf (from
knitpicks
) last night at knit nite, back and forth, back and forth. It's garter stitch and mindless and I even managed to look at Angeluna's koigu book some while knitting. When, wonder of wonder, I saw the little ball of yarn starting to look like just a loop of yarn. I knit a few more rows until there was only about a yard left, so I guess I'm done. Well, it needs binding off and weaving in and some gentle blocking to even things out. Technicalities, but I'm calling it done for monthly counting purposes. Here we have pics:
And up close: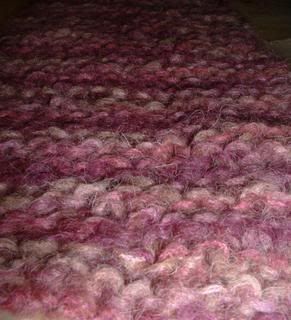 Cast on was 17, knit on bamboo size 11us. One skein of
suri dream
in the rose quartz color. It's almost 60 inches long and about 5.5 inches wide and will make a niecely Christmas gift for someone.
And there is other garter knitting goodness. It's a rectangle of garter inspired by the yarn harlot in
Knitting Rules
, knit from a skein and a half of Mission Falls wool.
It's temporarily seamed with the cast-on tail and the cast-off tail is woven through what will be the top. I'm going to undo it for a class sample.
more later,
j