sock madness starts tomorrow
so we're finishing up a few small projects.
The baby hat is done: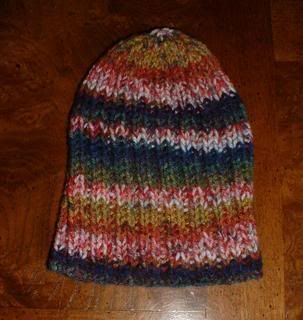 Just for the record: cast-on was 68. Stitch pattern is k2p2 to just past 5 inches then decreased the purls out then standard 7-point
ssk
decreases. Knit on size 7us 16" clover
circ
. The yarn was some leftover acrylic from the very first socks I ever knit. The one and only pair of acrylic socks I ever (and will ever) knit.
And the mitts are done:
from a pattern in the
snb
calendar. Theoretically a woman's size; in actuality should fit a child about age 9-10.
The sock yarn players are all ball-winded.
And we have
socky
inspiration:
A nice book that I recommend highly.
Laundry usually happens over the weekend here at
chez
maple. I did some last night and will do another load or two tonight. Then I plan to change the sheets. And mostly tomorrow and Sunday I will knit and see how far along I get. I will miss a few hours of knitting tomorrow as it is
tree
selling season, but you can bet I'll have my knitting with me. I hope we're not too busy so I can get in a few rows. Then tomorrow afternoon we have a special knit together planned with several of my Sisters Of the Wool who are also participating in the Madness.
Blogging may not be very interesting over the next few days as we'll see only one knitting project. Hopefully, it will not take too long to finish sock 1 but I really don't have any idea as I don't think I have ever knit socks as a monogamous project. Watch my progress here.
more later,
j