fun fur hat
There is fun fur in my stash. Not exactly sure how it happened. I'm usually a wool/alpaca/cotton knitter.
I remember I was thinking about mixing some into mom's Christmas shawl and it was half price at Hobby Lobby... and then it was in my basket. I've been wondering what to do with it and found a blog today where
I'm knitting as fast as I can
linked to
Kate's Minestrone soup blog
. Kate is collecting fun fur hats for kid's with cancer. So I think I'll use up that fun fur and knit a hat. Then I find that I have two skeins of it. So maybe there will be two hats? I'm going to strand it with the Caron acrylic using the no hair day hat pattern that Kate sent when I signed up.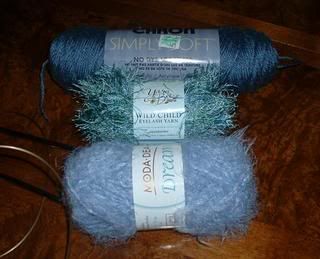 more later,
j
http://ma2ut.blogspot.com/2007/01/i-love-fun-fur.html