a scarf for dh
dh drooled over a hat I knitted in December with this yarn for my brother. I could tell he didn't believe me when I said the hat was not for him, but alas when he opened his packages, it wasn't there. But there was a big 50% coupon sale at Joann's in late December and two more balls of this yarn came home with me. It is Paton's Shetland Chunky in the High Plains varg colorway. dh says it's fall colors and he should know. (he grows maples).
I cast-on 200 stitches on a really long addi circ size 11. And knit until two skeins was close to running out. I knit from both skeins in turn because I didn't want any pooling/striping to get going then have an abrupt change mid-way through. Not that I would have minded some pooling, and there is some minor pooling. I just didn't want disrupted pooling. It probably would have been ok but ... I didn't want to risk it.
The scarf is about 8 feet long and 6 inches wide. I cast off with a sewn cast-off as I didn't want the cast-off to tighten up the edge. Not that anyone but me would have really cared. And that was a long long long piece of yarn on the needle at the start.
Here are some pics: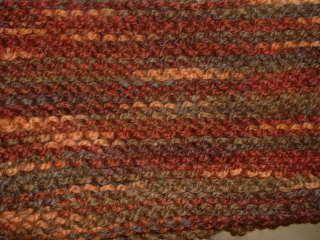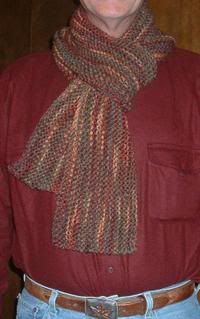 [dh wanted to keep the buckle in the pic. It's a custom I had made for his birthday a couple years ago based on a leaf from his newly patented Fire Dragon Shantung. ]