Which socks
There are nine (yes, 9) pairs of socks on "the" list, in various stages of completion:
I've been pondering which one (or two) to bring to the active list. Here are some factors:
1) Rpm socks – the pattern and result are neat but it bores me and I have to concentrate a bit. Light (and levity/concentration factor) preclude knitting on these at knit night. Yarn is CTH, which will yield a good pair of socks.
2) Cat Bordhi lace socks – Sock 1 of this pair is on the leg and I have to concentrate on the lace chart. The end result will be thick socks with limited shoe choices.
[These socks are AWOL. I guess they are not eligible to be knit next.]
3) Brown wool gatto socks for dh – Sock 1 is to the heel but the needles have been pulled (who the heck did that without putting in a strand of yarn or some substitute needles) and the pattern is not well documented. It is based on a sweater chart with textured stitches and will require concentration to approximately duplicate what I have done on sock 1 on sock 2. I have no hope that they will be identical. Sock 2 is barely started and waits in the ribbing area. The first step is to retrieve and holder the loose stitches and give it a try-on (to dh).
4) Aqua cottony KP socks – This is a yarn from the knitpicks dancing line. From a time I thought I might like to knit cottony socks. And I believe the color was picked by dd who has a couple of pairs of handknit socks but declares that she rarely wears socks. And last time I saw her laundry (she lives on her own now), her socks showed signs of abuse that resulted in brown bottoms. These socks were knit in some manner which is not clear in my memory that resulted in a cuff bind-off but before I knew about EZ's sewn bind-off. These socks are the reason I didn't do toe-ups for a long while as the cuff bind-off is too tight and threatens to "pop" when easing the sock on. Anyways I remember trying to pick out the bind off and I hit a place where something is knotted and won't come undone. I'm thinking I'll clip back to the start of the ribbed cuff, unknit it there and reknit the cuff. But I'm not looking forward to doing this, which is why these socks have languished in time-out for so long when they are so close to being done. And I'd rather knit wool socks.
5) Cat Bordhi smile socks – These are from a workshop last spring and held so much promise. I remember trying on the model and recall that it fit. The purple and pink accent yarns came from Leslie, another workshop attendee. I call them smile socks because that's what the accent colors look like to me. The represent one of Cat's new sock architectures but as knit in this incarnation, by me, don't work for me. I'm not sure if it's my feet or my knitting or Cat's instructions but it's not worth it to me to try to make this work at this time. Get a good look. These are going to the frog pond.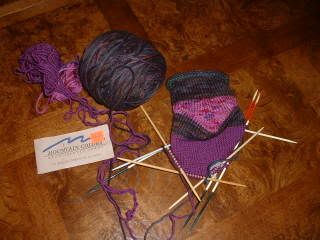 6) Koigu socks – I do so like Koigu KPPPM (is that the right number of P's?) sock yarn. I got this yarn last spring in Portland at a lys that had a beautiful wall of organized Koigu. This particular yarn has had a couple of false starts, and is currently a toe that seems too large. It just needs a bit of frogging and a re-cast-on (after figuring out the right number. I think four less that Sharon's Koigu socks gifted at Christmas time.)
7) Birthday CTH socks – This is some pretty (and bright) Cherry Tree Hill that my dd got me for my birthday (last September). Its their fall foliage colorway (which has special meaning in our family) and will make nice socks. When it gets into the rotation. I have to figure out a pattern. Or it would be pretty in stockinette.
8) Mountain colors Bearfoot – This is some Mountain colors Bearfoot yarn and will be knit in stockinette likely, or close to it, because my experience is, any other pattern is obscured by the mohair bloom when the socks are washed a few times. But I do enjoy wearing them. And I will like another pair.
9) Brown mis-matched socks – These have been blogged earlier and they've been in time-out. And they still don't match. And it still bugs me. What I think I should to, to make socks that please me, is knit socks in wide stripes with each strip alternating from the other end of the ball. However, this is much more complicated that what I was doing. And it makes ends to weave in. And may mean frogging what I've got. Grrr.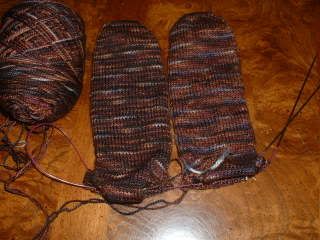 So dear readers, if you would like to weight in, the polls are open… Actually, there are no actual polls. You can "vote" in the comments. Or vote in a private email to me.
Pics to come tomorrow,
As it's knit night, tonight,
j

Found another pair of socks in process. Now there are 10:
These are knit with two different Regia navy and other colors yarns. Striped together semi-randomly.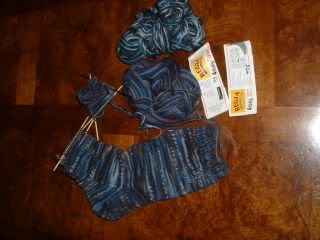 And for fun, the rest of the sock stash: