Crystal cove with more sleeves
We have more sleeves. Do you like the basting? And you may see that a dpn can serve as a temporary "pin"?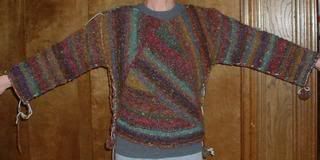 We are almost there. Another inch or two on each sleeve. Perhaps with another decrease. I'm giving her a break until Tuesday when I'll get input from my SOW (Sisters Of the Wool) at knit night.
I have knit another skein on each sleeve to get to this point. There are a couple of little balls left from some part of the front and back that left a bit of yarn. We'll see if these little balls will be enough. I don't have yarn nerves, as you see, there is another bag (of 10 skeins). I bought 10 originally, thinking that would be enough but the pattern called for far more yardage and each skein is 40 grams instead of the traditional 50, so I ordered another bag. From an ebay seller with an excellent price for 10.
more later,
j