hey hey its the monkees
I couldn't resist. Some of you can guess my age if you also remember the Monkees show.
Here we have the finished
Monkee
Monkey socks:
The Monkey pattern is available on knitty [
link
] and was written by Cookie A. I knitted mine toe up with a heel adapted from
Widdershins
, also on knitty.
Many of you may know I'm a swatch proponent. Sit down now, as I did not swatch for Monkey, nor do I usually swatch for socks. Especially when knitting toe-ups, I can knit the toe, trying on as I go, increasing until it fits. I've knit enough socks for me, (and most of my socks are for me, I'm selfish that way), that I can generally tell within 2 to 4 stitches what will fit me based on the yarn and needles, and the yarn's similarity to a yarn I've knit before.
Back to the swatch topic, as I've confessed, there was no Monkey swatch, but I have a concern. I think these socks are destined to be a gift and I need to give care instructions. The ballband says Handwash Dryflat (like it's one word?). So I knit a swatch. After the sock. It's kind of a wimpy little swatch, with a cast-on of just 12 stitches. Two garter stitches on each side, mostly except for the row where I forgot (oh well), with eight center stitches. My Monkey gauge is 8 spi.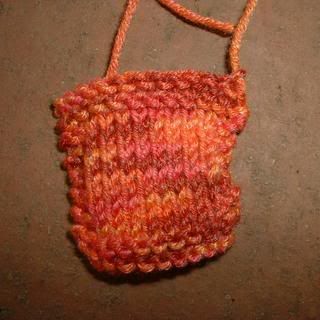 Then the swatch went for a swim, in a teacup of cool water. It's drying now. Next, I plan to test washing it in the washer on extra gentle and see how it comes out. There are some handknit socks that will likely get washed tomorrow so the swatch may go along. Perhaps in a lingerie bag so he doesn't get lost.
Just for the record:
Monkey socks started
with a toe swatch June 9, 2007 (declared a real project June 18)
Finished
7/8/07
Yarn
Panda Wool Cinnamon (9798 Lot B) 2 50 gram skeins (about 12 grams left) 46% bamboo, 43% wool, 11% nylon
Needles
Knitpics 32" circ size 1.5us (2.5mm)
Pattern
Monkey by Cookie A
Changes
toe-up & custom cuff ribbing
I've been promising to share my Monkey cuff ribbing "pattern". When I examined Monkey 1 closely I found that I had minor variations in the cuff from the front half to the back half. I made a couple of adjustments when I cuffed Monkey 2 and it seemed to work fine. I'll bring them to knit night for a close look to see if anyone can spot the adjustments. The cuff pattern has k3, p2 and k1,p1 sequences. My idea was to continue the flowing-up-bands from the pattern as k3's into the cuff. The stitch sequence below starts at the same point in the sock where you might have started the p4 in row 2 of the chart.
*(p1, k3, p2, [k1, p1]3 times, k3, p2, k3, p2, [k1, p1]3 times, k3, p1) repeat from * once to knit 1 round of ribbing
I knit 14 rounds of ribbing on Monkey.
I'm not sure if this ribbing pattern would be useful to those of you who knit Monkey top down, but feel free to use it as you like.