Socks in an azalea
Usually I just plunk my ufo's down and shoot their pic. No smiling, no artsy shots. Maybe I need a cute little stuffed animal to wear sock toes on their heads? But today, we try for something a little different. Here we have Sock Madness Mad Cow socks in an azalea:
And on the patio, with the lifelines in place showing where I stopped originally. I unbinded and knitted up another 12 rows of rib (22 total):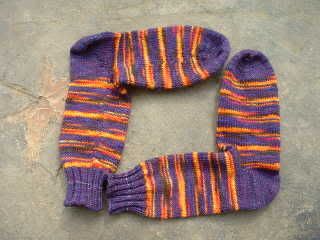 and after pulling out the lifeline: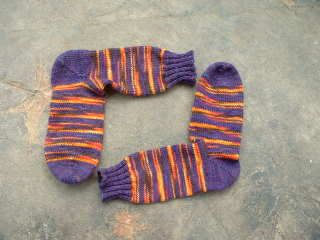 And these are Angeluna's Sock Madness Mad Cow socks: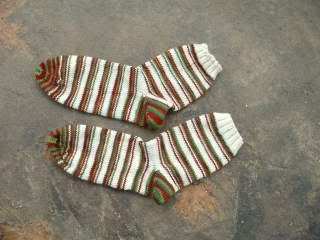 She knit one and one-half socks. The second sock was just past the heel on Tuesday at knit night. Our team results were decided and she had been eliminated so she knitted the socks onto my needles and passed them on. They don't fit her, and they fit me, so she gave them to me to finish. About needle size and gauge... She started out on a kp circ, size 1.5us doing magic loop (for her first time, with myself and two other knitters from our knit night group, all doing ML) and was getting a very tight gauge. And the sock cuff/start was very small. So she sized up to a 2 or 2.5 (please comment with your needle size, Angeluna) and got what felt like a good sock gauge. I finished her second sock on size 1us dpns and matched her gauge very closely. Go figure.
And thanks Angeluna.
more later,
j