More baby hats
I have finished up another baby hat: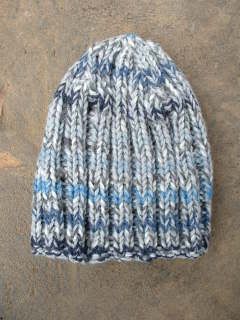 and a top view: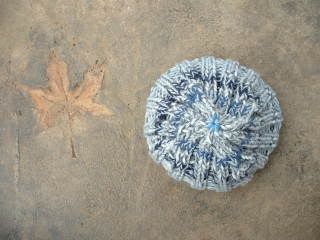 I saw a pic in a blog (sorry I do not remember the blog) of a hat with 4 decrease points so I tried it. Decreasing around 4 points, it worked fine but I used the purl stitch behind a k2 as the focal point and if I did it again, I would use the second knit.
For the record, this was leftover sock yarn from dh's second pair of socks from some months ago. It is a faux fair isle in blues. Regia 6 ply as I recall, with a strand of kp dye-yur-own dyed gray with rit. Cast on was 64, knit on a 16" size 7us circ in k2p2 rib for almost 5 inches, until I thought I had just enough yarn left for the decreases. I ended with about 2 yards left, which means I mis-judged by 2 rows. The hat will stretch to fit a baby with a 16" head (2-5 months?) comfortably and will probably go 17". The ribs will probably allow the hat to fit a newborn with the edge folded back.
And I started another baby hat. Baby hats are my favorite mindless knitting and I need to have one on the needles at all times. And they use up leftover sock yarn. One finished a couple weeks ago is on it's way to one of dh's Dept of Ag friends in DC for his new son. And as soon as I find out whether our Saab guy and his wife had a boy or a girl, one will go to him. The latest: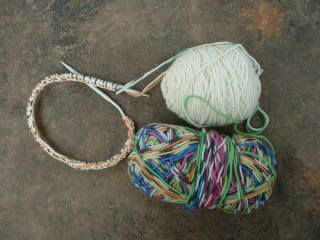 more soon,
j