eliminated
Sock madness sock number 2 has consumed my knitting time since Thursday evening and for me is done. What I mean is that my socks are done, and sock madness is done as I have been eliminated. I started my socks on Thursday evening, knitted Thursday late into the night, and knitted all day Friday, and at that point had one sock just past the heel and the other sock well into the leg. I checked the sock madness flickr pics, and my opponent was finished with her pair of socks. So I was done. And a lot relieved. I have learned that I really do not like competitive speed knitting.
Here is my sock:
day1
day2, draped artily on an azalea: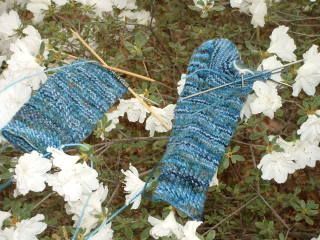 day3, pictured on a Japanese maple that reminds me of a shrub (murasaki kiyohime) I was on farm duty selling maples and directing traffic. It's a good thing probably that I was already eliminated.: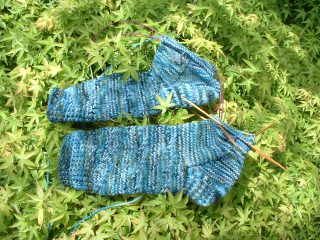 and done on day4: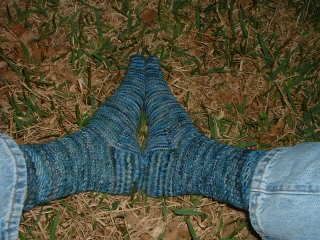 As I was already eliminated, I knit my new favorite toe decreases, in place of the standard toe decreases in the pattern. Actually, I usually use this system more for afterthought heels. A close-up of the toe:
And I do like the socks. I am wearing them now and will enjoy wearing them with jeans. And to work with navy slacks.
I did the pattern pretty much as written. The cast-on was 56 which I knew, knowing my narrow feet as I do, would fit me with fingering weight yarn. I had planned to use some Mountain Colors bearfoot but the pattern had a textured stitch. An earlier pair of Mountain Colors bearfoot socks, from last year, has fuzzed up during the wearing and washing to the point that the carefully knit texture almost doesn't show. So I chose a thicker fingering weight yarn. It is an ebay purchase pictured a couple weeks ago in the harbor color. This probably cost me some knitting time for competition purposes as it takes more rows of fingering weight to make the 6 inch leg and a foot length foot. During the foot knitting I had been eliminated so I dropped my needle size down to a size 1us (2.25 mm). The socks were started on KP circs called size 1 but I call them 1.5 (2.5mm).
more later,
j
p.s. Sometime while I was knitting socks, we blew by 7000 hits. Thanks again for reading my blog. There will be more blog posts this week. Competitive speed knitting is not good for promoting time to blog.