sock yarn dyeing adventure
Angeluna (of
PurlsbeforeFrogs
) and Jo (of
Celtic Memory Yarns
) and I went on an adventure to Heritage Arts on Saturday. For a most reasonable price,
Lorelei
provided a skein of pre-wetted sock yarn and access to more colors of dye than a person could want to use. And instruction and guidance. And the other dye-ers provided plenty of inspiration.
And the sweet Jo brought me a skein of her merino tencel sock yarn (50/50) with a lovely sheen like silk. With Lorelei's permission, I dyed it too.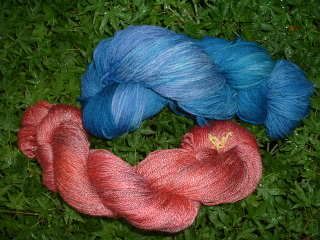 And up close: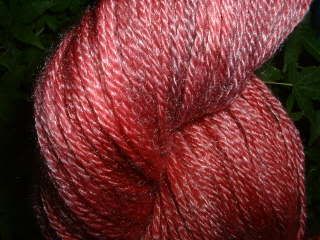 And we have new yarn: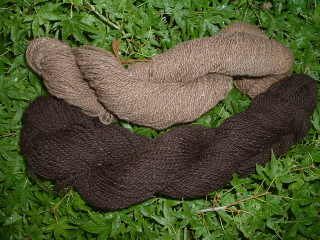 Angeluna got some of this last week. And I thought about getting some, but didn't. So I called Sue last week. It went something like this "Remember that yarn in the basket? I want it. How much is there? I want it all. Will you hold it for me until Saturday?" This is Texas wool, unlabeled as to yardage and weight. At home, I have weighed it and done some yardage calculations. My scale and Excel are so handy. I have 10 skeins of the lighter brown totalling 570 grams which should be about 990 yards (based on the weight of 10 yards and ratio calculations). Now this could be clogs and bears. And maybe brown chickens. Or it could be a cardigan if I had about two or three more skeins. Anybody willing to trade three darks for three lights?
In other knitting news, there is progress on the loksin. I have knitted about 15 grams of the rosier sock yarn onto sock #1 since the gusset. And snipped the yarn. Sock #2 is now getting it's turn with the rosier yarn. Here is the current status of sock #1. [The blue yarns show where row 1's of the chart started. It's a game I was playing.]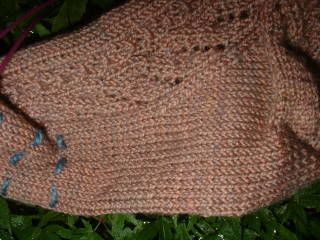 Better close for now. The maple man wants to "play" computer.
p.s. we've passed 10000 views!!
Labels: dyeing loksin HappyNewYarn