Heritage Arts
The loksin sock and
Angeluna
and I went on a little field trip today.
We went to Heritage Arts on Beaumont Ranch in Grandview, less than an hours drive from home. Angeluna was driving so I got to knit some. ;-) The shop has a quaint old west look from the outside: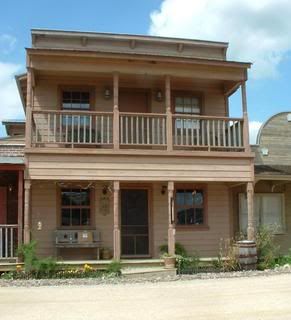 And there was lots of that blue sky:
But just inside the screen door:
there was yarn:
But the Lokskin sock visited the wall o' fiber:
Actually we should have taken our fiber wall pictures before we shopped the wall. We tried not to make too big of a mess, and clean up after ourselves some, but let's just say the wall was a little fuller of fiber before we got there.
There was also dye and yarn for weaving and looms and spinning wheels and all manner of other fiber-related goodies. Their
website
is being updated so check back later.
Here's my new stuff: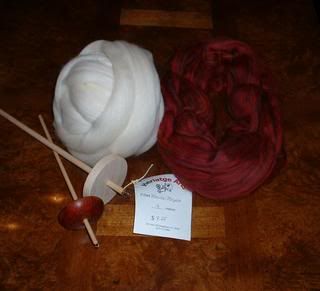 some hand-dyed merino in a color called mohave and some white wool and a new student spindle that is sturdy for learning and practicing and a Hokett Would Work spindle in Paduak wood [no website found but here is a
link
to some info].
Check out Angeluna's blog [
link
] for another report.
Signing out for tonight. I'm off to play with my new fibers and spindles.