another hat
Remember that pile of blue and green yarn scraps gathered for the car trip? [
link
]
Well, there's only this much left: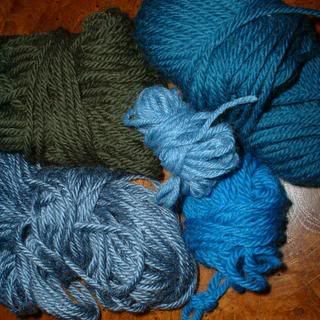 There were 140 grams of odds and ends in various shades of blues and greens. Now there are 40 grams. 100 grams of stash busted. Yea!!
Here it is, up close:
That bit of sparkle was a golf ball size of multi-colored fingering weight, probably a wool silk blend. Here's a pic of the last bit that was left. I wanted to get a pic before it got knitted in. The last yard or two had a fuzzy character like it might have been knit and frogged a time or two?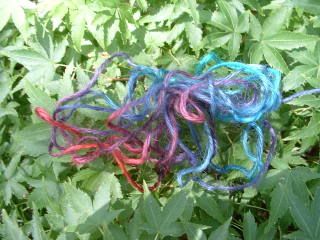 And the hat, finished, with ends woven in: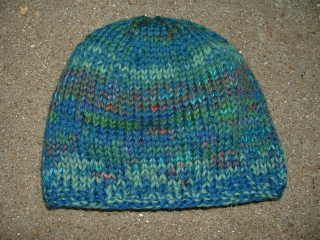 Just for the record,
yarn
: mostly wool, mostly worsted weight, plus the fingering shown above, 3 strands held together and knitted as 1, 100 grams
needle
: size 10us 16" circ
cast-on 61
(an odd number, I know. I pulled out a length of yarn that seemed about right for a long-tail cast-on. I cast-on stitches. As I ran out of tail, the collection of stitches seemed to reach around the circ nicely, so I declared it good and commenced knitting)
pattern
: my own, here it is for all to share, I'm claiming copyright for stockinette hats knit in the round with three strands of wool bits and pieces and a cast-on of 61. Knit one for someone you care about. And/or for a person who doesn't have a hat.
cast on 61, join for knitting in the round (I like the bumps on the public side, but suit yourself)
knit one row
k1 p1 one row
knit round and round for a lot of rows until the hat is almost long enough
change yarns as little balls run out, or as the mood strikes. I used spit joins mostly to save myself from lots of ends to weave in.
decrease 5, evenly spaced around (to get down to 56, a multiple of 7)
do your favorite top of hat decreases (I like ssk's in a 7 point decrease, let me know if you want details.)
Some people like to ask me, "Who is that hat for?"
Well, I really like this hat. And the maple man likes it too. It fits both of us. So even though we both have a hat, we're keeping it. For a spare.
We have discussed the (hand) washing requirements.
Labels: hat