fetching with homespun
I've decided my first plyed (or is it plied) homespun yarn wants to be fetching (from knitty last summer [
link
])
The pattern calls for a cast-on of 45. My yarn measures, based on wraps per inch, at worsted to heavy worsted (with some sections more like dk, it's my first hand spun yarn y'know) so I thought maybe I'd need to go smaller. I tried 40. It was too big. So I dropped to 30 and it fits, but quite snugly. But I wasn't in a mood to frog and go up to 35, so 30 it is.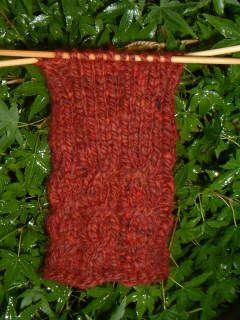 I'm knitting on size 5 dpns, pretty much following the pattern except for the stitch count. I thought I would need fewer rows between the cable-y cuff and the thumb, but repeated try-ons are telling me to keep knitting. I have finished knitting the first smallish ball. I have another ball this size and a bigger ball so I'm pretty sure there is enough yarn.
A question for the spinners among you:
Part of my process for getting this yarn off of the spindle involved winding it onto my ball winder. So I have nice little cakes of yarn. After plying, the yarn is fairly balanced, so I went back and forth on whether I "need" to do the make a skein and soak and weight thing. And I wanted to knit it, so I skipped the skein-soak-weight. Is that really bad? I don't know whether "need" is a "really need to" or a "if you want to" need or a "most people do, so they think you need to". Help please. All opinions welcome.
Labels: spinning fetching