Sari Silk bag +
A finished project for September. This sari silk bag has been on my UFO list all year. Ever since I've been tracking UFOs. It was probably started a couple of years ago, but I'm not sure when because it hales from my pre-blog days.
And a close-up of the handle: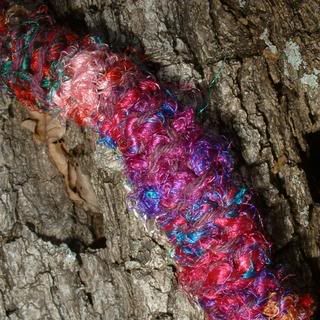 I thought about doing a reverse stockinette i-cord for the handle but the silk has
NO
give and after a few rows, I knew it wasn't something I wanted to knit for a handle-length, so that effort went to the frog pond. I settled on this 5 stitch garter handle. I stitched it into a tube along the edges so it's like a mock i-cord. I knitted in an extra strand of a fingering weight plum color wool/cotton in the handle.
Just for the record:
Yarn: Sari Silk 1.2 skeins 234 grams
Needles: blue straights, size 8 and size 5 (one of each)
size 7 dpns for the handle
Pattern: my own based on short row wedges
The bag may get a lining. At some time, to be determined, later. If I decide it needs one. But for now, I am declaring it done.
.
And these are oak galls.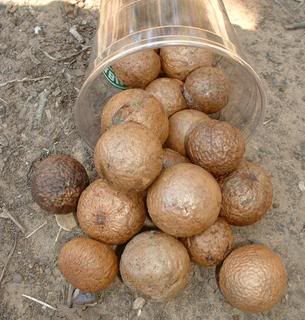 I understand that they are a good source of tannic acid for natural dyeing. But I have no idea what to do now that I've picked a grande (why or why can't they call it large? Or extra-large. When I order, I ask for large. They always know what I'm talking about. But I digress…) cup full. Suggestions and instructions welcome.
Stay tuned for an update on the maple man's sweater tomorrow.