San Francisco ~local yarn shops
Here are some local yarn shops I visited during my trip to San Francisco and environs:
First there was Boll Weaver in Eureka, a small shop with a bent toward spinning and weaving but with lots of entertainment for the knitter. I spent a couple of hours there without are-you-ready-yet questions as the
mapleman
drove to see more redwoods. Actually, I finished at Boll Weaver [they closed] before he returned so I walked up the street looking for a coffee shop but found a pizza place and enjoyed some wine and knitting while waiting for his return. And since it was Tuesday, I attended my Sisters Of the Wool knit night by phone. At Boll Weaver, I got some
handspun
yarn, a pattern, and the spring interweave which I not been able to find at local yarn stores or big box craft stores. This will not be a problem in the future, I have started a subscription.
My favorite of the trip was
Imagiknit
in the Castro area of San Francisco [
link
]. A nice sized shop packed with yarn, organized by gauge and content. Including my favorite sock yarn,
Koigu
. I got enough for two pairs.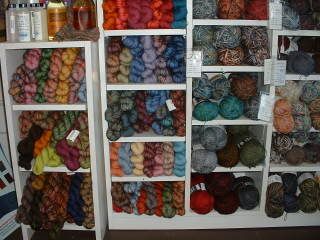 And my first
Malibrigo
. A very nice, very soft single spun yarn. They had just received a shipment of many many boxes of
Malabrigo
so besides what was on the shelf, Alison let me tour the boxes. Opening each box, pulling bags of interesting colors..
Imagiknit
has an area with lots and lots of scarfs made to showcase yarns and patterns. [They give you the pattern when you buy the yarn.] So when wondering what to make with my prospective
Malabrigo
-- I was thinking a wrap -- the owner, Alison, showed me a scarf knit with one skein of
Malabrigo
. The length was good, maybe a
smidge
long. I laid it out folded back on itself and determined that a wrap about four scarfs wide, would be good so I worked on choosing my color, ending up with a nice
tealy
bluey
variegated almost-solid. Later during my visit, I found another scarf in a pattern I favored, which turned out to be also knit from
Malibrigo
. I got both patterns and they turned out to be quite similar in construction, differing only in the decrease, one being
ssk
and one p2tog.
I stayed at
Imagiknit
for a long time. It is in an area of San Francisco where you park where you can, in the surrounding neighborhood. Where I parked, the sign says you can park for 2 hours. I asked Alison what to do if I wanted to stay longer than 2 hours. She said to check my tires and if I found no chalk marks, I got another 2 hours. The parking
monitors
were kind; there were no chalk marks.
I also visited Art Fibers downtown San Francisco [
link
] .
A nice small shop with their own yarns that you can sit and swatch. [I did.] I didn't see anything I wanted a sweater's worth of. They had a
drapey
cardigan-wrap-kimono on display. I would have bought the pattern but it was $10.00 with yarn purchase or $20.00 without. Maybe I don't need a pattern that pricey to knit and seam some rectangles and triangles. A yarn that I might have bought for a scarf for dd was out of stock and their shipping policy meant it would cost 4.50 to ship 40 grams of yarn that would cost two stamps to mail.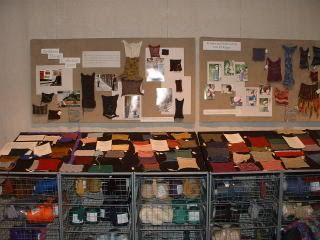 Then there was Generations in
Fortuna
[
link
]. Actually, the first shop I visited. When you stop for lunch and happen to know there is a yarn shop in town, you have to go, don't you?
But I don't knit red heart so I didn't buy yarn.
more later on the yarn buys and trip progress knitting,
j