Irish Moss is done!!
As I guessed in the last post, I switched to a size 2 for the last 4 founds of the neckband knitting. And 16 rounds of neckband ribbing were plenty. To make sure, I knit in a circ for most of the stitches and dpns with only 10 or so stitches for the rest, and ask the maple man to try it on. I think he tired of the trying-on requests but indulged me.
Friday was our office Christmas party then we went to a graduation party for a good friend. There was minor imbibing so there was no serious knitting. On Saturday, December 15, I bound off the neck and woven in the last ends. And today, the maple man wore it to church.
Without further ado, I present Irish Moss: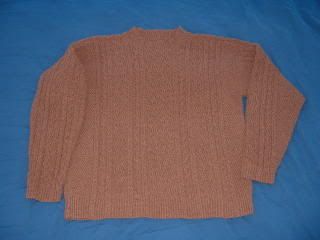 And up close: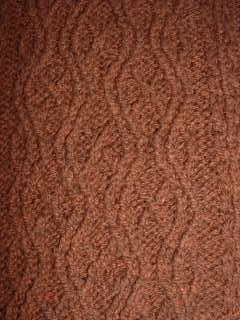 I wanted to take a picture on him but forgot to do it before he changed. A modeled picture will come later...
Just for the record,
Started
August 4, finished December 15. That is 4 1/2 months... Not monogamous knitting but almost. And steady.
Yarn
Elsebeth Lavold Silky Wool Hazel colorway 13 skeins
(I bought 15, 2 were insurance in my mind, I guess I guessed well)
Needles
: size 5 knitpicks options, plus size 3 for the ribbing and size 2 for the end of the neckband ribbing
Pattern
: Alice Starmore's Irish Moss (Thanks to my local library for having Aran Knitting, and allowing my to check out and re-check...)
Modified
to make the sweater longer and the sleeves longer and to add stitches, and cable chart repeats, based on my gauge. Actually, my first gauge swatch matched the pattern specs but felt "too airy". I feared it wouldn't be stable during wearing, and a bit too drapey for a manly cable sweater. As I knit them, the sweater front and back panels had 195 stitches in each row. I've thought about calculating total stitches but I don't think I want to know.
Labels: Irish Moss