poke spinning update
I don't think I've showed you my spinning recently. I've been spinning the roving I dyed with pokeberries.
Clock-wise from the top:
batch 2 roving (targhee)
batch 2 roving pre-drafted
batch 2 single on the spindle
batch 1 single on the spindle (rambouillet)
The roving that I dyed, the first weekend that I picked poke berries, is what I'm calling batch 1. There are about 46 grams of single. I would call the color magenta and in two weeks, I've noticed no fading.
The roving I dyed last weekend, started out lighter in color than the first batch. It's more of a rose-y red. Could be because I dyed more roving and yarn in the pot. The "dye" did not exhaust, but maybe natural "dye" doesn't exhaust? Could be because the berries were at a different stage. Could be because the rovings are from different sources. The batch 1 roving is from Heritage Arts from the bulk white bump. Sue said it is likely rambouillet. The batch 2 roving is targhee from Woodland Woolworks.
I plan to ply the two together but they haven't told me what they want to be. I'm still at the stage of being surprised what weight the yarn will be after it's plied and finished. I'm guessing worsted. Stay turned and we'll see.
And here is the pre-drafted roving up close: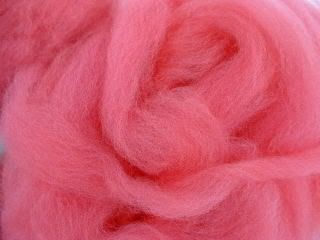 Pretty? On my monitor the color is close, maybe a little lighter than in person. When spun, it is darker and richer in color.
I also over-dyed this sock yarn in batch 2. It from the custom-dyed yarn we [my Sisters of the Wool] got through Grace's co-op. The yarn is a wool bamboo blend. The little skein shows the original red-purple. It's now red-darker.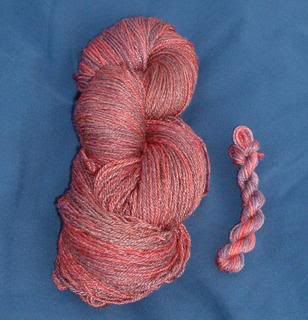 Labels: natural dyeing, spinning