more yarn to show
We have more plied yarn:
There are about 34 yards (22 grams) of the multi-colored yarn and about 43 yards (36 grams) of the almost white.
The multi-colored is from this roving from my dye test: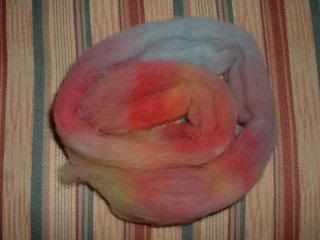 And is shown on the second bobbin:

The almost white is a plying together of the first bobbin above (corriedale) and the third bobbin (targhee).
I'm a novice spinner, but I would say that the yarn is variably spun with overspun and underspun sections, and perhaps (no, probably) is overplied. I do need to figure out how much twist is right and how much ply twist makes it balanced. But it's "yarn" and the knitter in me wants to knit it. I think it wants to be bubby from knitty [
link
].