clapotis is done
My clapotis is done. Blocked and drying as I type. She was started and finished in April. With yarn knit in the same year it was purchased. This is soo not me.
Here is her pic: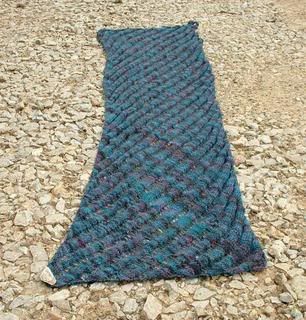 details:
pattern - Clapotis from knitty fall '04 (
link
)
yarn - lotus blossom (ebay seller) twinkletoes sock yarn in the Midnite color, 115.9 grams [and 4 grams are left]
I left out one increase section, stopping at 95 stitches per row, because I had used almost 20 percent of my yarn. I knit 15 straight sections (instead of the pattern 13 straight sections), stopping when I had just over 20 percent of my yarn left. One of my Sisters of the Wool told me about the 20-60-20 rule and it worked well.
needle - size 6us pink nylon circ
size - preblocked - 56 inches long and 7 to 12 inches wide
blocked gently (no pins) - 60 inches long and 18 inches wide
more later,
j