Baudelaire 1
I know, I know, bad blogger. It has been several days since I've posted. But I've been busy knitting. Witness: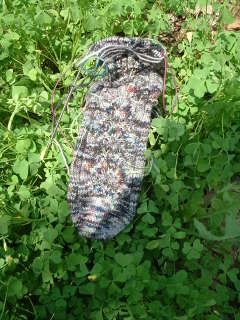 Here we have
baudelaire
The pattern is one of Cookie A's, available free on last summer's knitty. [
Click here for a link
]
I have been reading Cookie's patterns but had not yet, until now, knit one. This is a very nice pattern that I have been enjoying knitting. The 8 row repeat is easy enough and interesting enough. (The stockinette socks are booorrrring, and on hold.)
I am doing a Baudelaire knit-a-long with some of my Sisters Of the Wool knit night friends. Last Tuesday, several of us cast-on toes but I don't think anyone got to the "good" parts. I'll be interested to see next Tuesday, how everyone is doing. No one has made any posts about problems or finishing so I'm guessing we're all knitting-along.
The yarn is my Jitterbug in the bright charcoal colorway, purchased in February at SWAK in Guthrie. I may not get very long sock tops with it but I have options in mind for a contrast ribbing if need be. The ball started out at 110.4 grams, and is rated at 267 meters. I'm keeping an eye on the scale. The yarn reminds me of Koigu in its weight and twist. Or maybe just a smidge thicker.
I'm knitting ML style with my size 1 (2.5mm) knitpics circs (32"). The yarn suggests 3.25mmm needles which is size 3us, I think, and imho 3's would knit up way too loose for sock gauge. At least the way I knit. I like socks knit at a nice firm gauge.
For this pattern, and most patterns with lots of texture, I think a solid or semi-solid would show the pattern better. But I have very little solid sock yarn, and I've been wanting to knit the Jitterbug, so ...
I'm knitting Cookie's pattern with a few customizations. Here is what I've changed up so far:
Cast-on with 10 per needle (20 total) instead of 8. I just like a 20 toe cast-on, generally, for my feet.
Knit the toe increases for a more rounded toe:
.. knit 1 round
.. knit 2 increase rounds (with no plain rounds)
.. knit 1 plain round and 1 increase round until I get to 48 stitches
.. knit 2 plain rounds then an increase round (to 52 stitches)
.. knit 3 plain rounds then an increase round (to 56 stitches)
Centering the pattern on the top of the toe, on the first row 1 of the foot chart, I knit k9 instead of k10, then substituted a simple decrease (in the first row 2 only) instead of the double decrease. This reduced the toe flareiness I see in the knitty picture some. I think some of this is due to posing the sock on a "model foot" that is smaller than the sock. This adjustment brought my sock to 58 stitches, instead of the pattern 60 stitches, but it fit my foot, so I went with it.
When I got the the gusset/heel area, I increased as specified in the pattern but just to 80 stitches, instead of the pattern 84. It seemed big enough for my arch and I didn't want it getting too loose. So I had to adjust the heel turn stitches. And I wrote down what I did because it worked and I want to make sock 2 the same without having to figure it out again. Feel free to use my adjustments if you have a narrow foot like mine.
I knitted the heel flap as specified in the pattern, but when I was done, somehow I had 56 stitches. Not quite sure where the missing two stitches went, and the sock still fits so I went with it again. Now the sock pattern area (my arch) was in mid-chart when the sock front/pattern took a break, while I knit the heel turn and flap back and forth. So when I resumed knitting 'round and 'round, I finished out the chart and kept the heel in stockinette. The back of leg area joined the pattern when the front of leg area restarted on row 1.
Now we (the euphemistic we) still had the issue of missing stitches (56 vs. 60) and those missing stitches on my sock were in a k2 area at each side of the leg where I needed 4 stitches for the cable. I considered just going on up the sock with k2 but decided to stay with Cookie's cables at the side, so while the sock progressed over rows 4 and 5 of the chart, I did a kfb on the end stitch of each k2. I did consider some other increases (even took a increase test swatch break) but decided to stay with kfb. On row 6 of the chart the cables commenced. Maybe, with a more literal interpretation of the pattern the cable would start earlier (lower on the ankle area) but in case the cable might have had any tendency to cause at-the-ankle-tightness, I moved it up the leg just a few rows. Now I cable on rows 6 and 2.
Back to knitting for me,
j